How much does it cost to build an app?
2 Jul 2018
We refer to the "how long is a piece of string" question to find an answer! So many factors unique to the app build determine its price, such as feature set, design, platform, database integration, staff and so on. The most basic of apps can range from a few thousand dollars through to the app behemoths costing a million.
Developing a roadmap
The most important things to remember when first attempting to build an app is to understand the key factors:
Apps take time to build,
Not all components are needed at launch, and
Set realistic expectations at relevant stages of the app lifecycle.
At Sentia we understand that building an app is no simple task. We never jump in to building an app, but coach all our clients through the stages to ensure they understand how objectives are aligned to user behaviours and technology trends, as well as set feasible expectations against client objectives to ensure return on investment.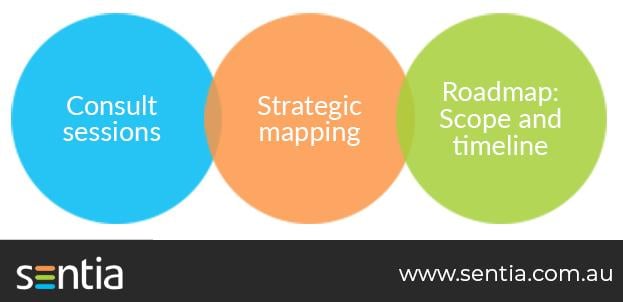 These stages help us determine the best way forward for success. At the initial stages we begin to understand what specific client needs are for app development, as well as educate clients in common pitfalls and success indicators of the development process. The purpose of the sessions is to begin to shape the best path forward in a way that is realistic and has the most potential for growth.
The app building blocks
It is important to look at all the pieces of app componentry and understand each set of costs against resource and time, respectively. We uncover the following 5 components to determine the best strategic roadmap and cost structure: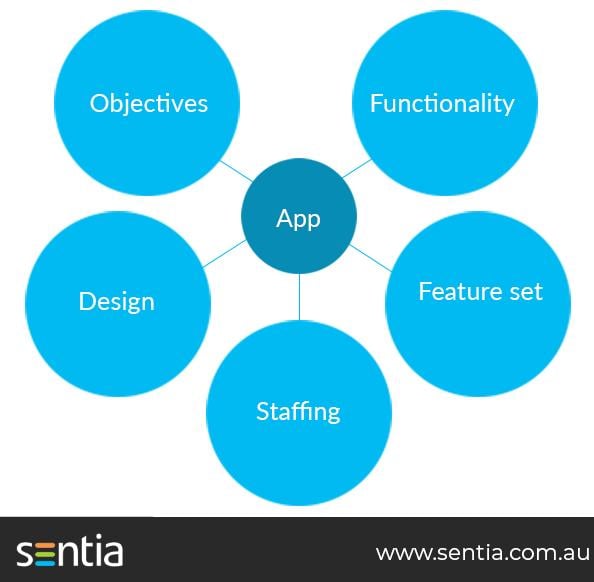 App objectives – What are the ultimate goals for the app? What does the app do? Who should be using the app? These kinds of questions help to determine the larger scope of the app build as well as determine what quantifies success.
App functionality – This is a major determinant of cost. If the app integrates with other systems or has complex features, the app cost will increase. The following table gives an approximate guideline on cost related to functionality.
Simple apps
Integrated apps
Multi featured apps

An app with only a few screens, has one basic functionality and does not store data about the user or app usage.

Here data is stored on the user's device or remotely on a server.
This increases in complexity when data is stored in the app or dynamically on a web server.

Mostly for enterprise sized organisations, these apps are complex in terms of offering and interface design.
The price range can fluctuate due to timelines and scope.

$20,000-$40,000

$70,000-$100,000

$120,000+

2-4 weeks

2-3 months

3-6 months
App feature set – These components range from email login to social login capability, whether there is social integration, rating systems, in-app purchase functionality, geo-location and so on. The list is endless and costs can range from a few thousand dollars up for each component. It is important to always determine what is the must have for launch and what can be deferred to at later stages.
App design – Visual and user design become more important as app complexity increases. If an app has poor design, users may not use it as much as they would with a case of good design. Costs here can range from a few thousand dollars and up.
Staffing requirements – Choosing the right type of staff can be tricky. Offshore teams may be appealing due to their low rates, however miscommunications, difficulties in accessing staff and developing an understanding of local taxes and R&D breaks are rife with horror stories. Engaging established development teams with experience alleviate hassle and guarantee delivery. Cost ultimately comes down to hours with the average being $100-$180 an hour for a local developer, depending on their experience.
Understanding the app strategy – the MVP
App development today is geared towards a lean and fast approach. Developing bare bones approaches helps to isolate the best way forward with minimal cost. No amount of vision can account for useability once in a person's hands. Finding the Minimum Viable Product (MVP) requirements at any stage of development is key in validating theory before pushing forward with all the additional bells and whistles.
Many app ideas have found out the hard way that their ideas were a failure too far down the track, with no budget left to rectify the problems.
The Sentia approach takes into account all the principles and components of app development to engineer the best way forward within the confines of the brief. This further allows milestones and improvements at every step of progress, enabling shifts where audience is finding traction and discarding elements which are not.
The Roadmap is ready
Objectives are clear.
Expectations are set for development, your team and business.
A timeline is detailed.
Budget is allocated.
You are at the starting gates and have planned for the next few months. No matter how much planning is done, there will always be surprises, good and bad. However, your clearly defined objectives will allow your business to constantly reassess direction and ensure that activity remains within scope.
Ready for app launch
Building an app doesn't mean they'll come. It takes work. Be smart about launching and set aside time to work out the resources required to get off the ground. Other costs include:
Submission to the Apple App Store or Google Play: There is an initial account set up fee to the Google Play and the App Store which is $25 and $99 respectively, allowing users to submit as many apps as they require on each platform.
Development: Improvements and adjustments should not stop at launch. It's important to grow past the initial roadmap and stay ahead of competitors. This can cost anywhere upwards from a few thousand dollars a month.
Server and backend support systems: If your app is more sophisticated it will required ongoing management of these data services. This can be upwards of a few hundred dollars a month.
Accounting and administration costs: If operating a business there will be taxes and the accompanying business registration costs.
Other costs: Think about whether you need a customer service team, an office and any physical marketing material. Often at the first phases of an app launch these elements are not necessary and can be managed with the limited resources you have.
# Going from Zero to Hero
No app builds overnight. It takes time, testing and hard yakka. Start small and private with the MVP. As the app begins to grow and develop begin to expand the audience size before going into a full product release. This process can take anywhere from a few weeks or months to a year.
Determining your overall budget
If you are thinking about an app and have a fair idea of requirements and their associated costs, put together a rough plan similar to the table below. This will give you a better idea of how costs are split over time as well as whether there is room to grow or cuts must be made.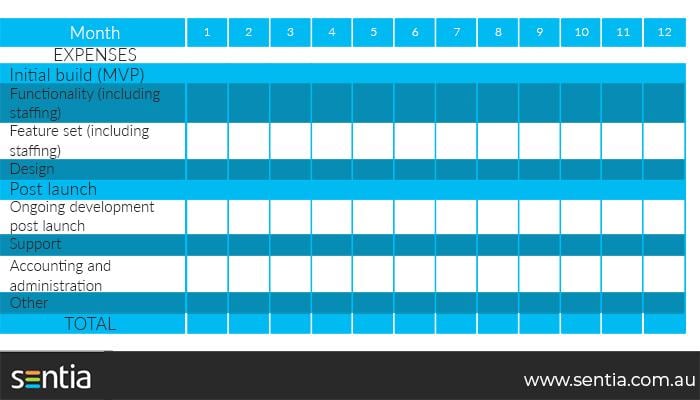 Taking the next step
If you'd like an initial chat to better understand how your app can be a reality, get in touch with us via our contact form.
Sources
21 Tips for Developing Your Mobile Game Plan by Noelle Skodzinski, Book Business14.4 (Jul/Aug 2011): pp 10-12,14-15,17.
App and Away by Trevor Clawson, Director, Apr 2011, Vol.64(8), pp.36-37
Avoid Mobile App Failure by Lauren Brousell, CIO, Aug 1, 2013, Vol.26(13)
Cost to Build a Mobile App: A Survey, Clutch, January 30 2015
How much does it cost to develop an app? By Carter Thomas, Blue Cloud Solutions, March 2015
Mind the Apps by Phil Britt, View Profile. Independent Banker 62.4 (Apr 2012): pp16-19.
Modern Apps : Mobile Web Sites vs. Native Apps vs. Hybrid Apps by Rachel Appel, Microsoft Magazine November 2014